Doctoral Project 1 - Livestock-wildlife Interaction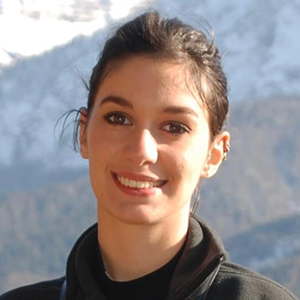 Elena Iannino, Max Planck Institute of Animal Behavior and University of Konstanz
Elena Iannino embarked on her academic journey by pursuing a Bachelor's degree in Veterinary Science – Wildlife Management at the University of Turin. She furthered her education with a Master's degree in Applied Ecology from the Inland Norway University of Applied Sciences. Throughout her studies, Elena enriched her academic profile by gaining experience in fieldwork and statistical analysis across diverse regions in Europe, Asia, and Africa.
Elena's enduring fascination with animal behavior has driven her to seek a holistic understanding of how animals adapt their activity and movement patterns in response to environmental factors, interactions within and between species, and human-induced disturbances. Her initial engagement with observational studies fueled her passion for wildlife ethology, leading her to embrace cutting-edge technologies that enable remote data collection on animal behavior. 
Having worked with tools like GPS collars, accelerometers, camera traps, and Closed-Circuit Television, Elena's current focus is on pushing the boundaries of unmanned aerial vehicles (drones) in the realm of biology for conservation. Through the utilization of drones, she aspires to uncover novel insights into the behavior of African wildlife. Her ultimate goal is to predict their spatial movements more accurately, ultimately reducing encounters between wildlife and livestock
Doctoral Project 2 - Migration analysis
Alain Chauffoureaux, Max Planck Institute of Animal Behavior and University of Konstanz
Alain David Cyril Chauffoureaux started studying environmental sciences and engineering at EPFL in Lausanne, Switzerland. During his bachelor, he had the opportunity to live for one year in Copenhagen, as part of a mobility program at the Danish Technical University. Then, he completed a master's program in environmental sciences at ETH Zürich and specialized in ecology and evolution.
Alain's interest in wildlife conservation stems from his curiosity to understand the complex dynamics of ecological processes. To uncover their mysteries, he has regularly explored possibilities to use new technology and computer science. As a quantitative ecologist, his statistical and programming skills enabled him to study various environmental questions, such as species distributions and mutualistic interactions.
With this background and the novel opportunities from drone technology, he aims at gaining knowledge on the dynamics of soaring conditions. He is dedicated to finding out how human activity alters updraft through land-use change, ultimately affecting the reproduction and survival of long-distance migratory birds.
Doctoral Project 3 - Predator-prey Response
Kasper Hlebowicz, Wageningen University
Kasper Hlebowicz's scientific journey began during his undergraduate studies at Jagiellonian University, where he focused on Evolutionary Biology. Kasper further pursued his academic aspirations by completing two Master's degrees in Ecology and Evolution through a competitive Erasmus Mundus Master's Programme in Evolutionary Biology at the University of Groningen and the Ludwig Maximilian University of Munich.
At heart, Kasper is a traditional behavioural ecologist with a deep interest in understanding how animals interact within their biotic and abiotic environments. To explore these interactions, he is fascinated by the application of cutting-edge technologies like GPS collars, bio-loggers, and unmanned aerial vehicles (drones). These tools allow him to study animal behaviour in unprecedented ways, unveiling the mysteries of spatiotemporal dynamics in animal behaviour.
By combining interdisciplinary approaches and leveraging the latest developments in unmanned aerial vehicle technology, his research endeavours to generate impactful insights. He is driven by the desire to influence the way we perceive wildlife by unravelling the intricacies of animal behaviours that shape our natural world.
Doctoral Project 4 - Coastal Monitoring
Lucie Laporte-Devylder, WIPSEA and University of Southern Denmark (SDU)
Lucie Laporte-Devylder brings to the network a multidisciplinary background rich with extensive field experience in diverse environments along with strong quantitative skills.
After completing a Bachelor's degree studying indigenous culture and endangered languages, she took her passion for the natural world to the field of wildlife ecology, earning a Bachelor's degree in Ecology and Evolution at Aix-Marseille University and a Master's in Conservation Biology from Lund University. In parallel to her studies, Lucie contributed to multiple research projects in both academic and applied context, where she developed a strong interest in employing imagery and remote technology to explore spatio-temporal dynamics and answer ecological questions in various ecosystems.
Lucie is highly interested in bringing technological advancements to the field and develop innovative methods with direct applications for wildlife conservation and management. Her project is motivated by the desire to further develop the use of drones and remotely acquired data to track large marine mammals in demanding environments. Using machine learning models and automated image recognition, Lucie's overarching goal is to provide innovative ways to gain a deeper understanding of the behavioural patterns of these animals while contributing to the mitigation of the human-wildlife interface.
Doctoral Project 5 - Calm Drones
Saadia Afridi, an ardent nature lover and technology enthusiast, is deeply captivated by the potential of drones to revolutionize our interaction with the natural world. She earned her Bachelor's degree in Mechatronics Engineering and her Master's in Aerospace Engineering from the National University of Science and Technology in Pakistan. 
Saadia's passion lies at the intersection of innovation and conservation. Her recent work revolves around a captivating pursuit: studying the acoustic profiles of aerial vehicles and crafting strategies to minimize their environmental footprint. She envisions a harmonious world where drones emit a gentle hum, seamlessly blending into the natural surroundings without disrupting the vibrant rhythm of wildlife.
With an intricate blend of acoustics, animal behavior, and cutting-edge drone technology, Saadia is embarking on an incredible journey. Her mission? To make invaluable contributions to conservation efforts by optimizing drone noise, preserving the sanctity of wildlife habitats, and ensuring the well-being of our natural world.
Doctoral Project 6 - Automated Planning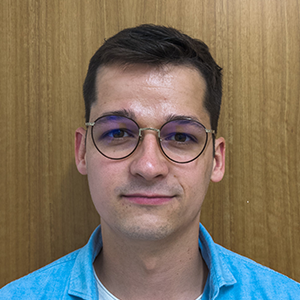 Edouard Rolland, University of Southern Denmark (SDU)
Edouard Rolland is an engineer who is passionate about designing and piloting drones, with a strong affinity for field experiments. He holds a Master's degree in Mechanical Engineering from Arts et Métiers ParisTech (France) and a Master of Science in Robotics from the University of Bristol (UK).
Over the past few years, he has developed a keen interest in drone flight automation and trajectory generation methods. His recent research for his MSc thesis focused on the development of computer vision and path planning methods for volcanic ash plume sampling using a fixed-wing drone.
Edouard firmly believes that drones, with their operational flexibility, are valuable tools for addressing the challenges of sustainable development and wildlife monitoring. Using his programming skills and hands-on experience in deploying drones, he aims to develop algorithms during his PhD to automate conservation mission planning. This solution will simplify their use in the field and unlock their full potential.
Doctoral Project 7 - Flexible Deployment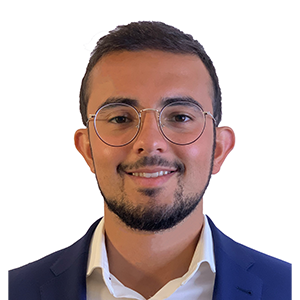 Guy Maalouf, University of Southern Denmark (SDU)
Guy Maalouf is a dedicated technologist and drone enthusiast with a 15-year journey in robotics and drone development. 
Completing a BEng in Electrical and Computer Engineering at the University of Beirut (AUB), Guy showcased innovation with a drone delivery system as his final year project. His educational journey continued with a master's degree in Aerial Robotics from the University of Bristol, where he conducted research on a coaxial modular UAV platform capable of mid-flight reconfiguration. 
His passion for advancing drone technology grew during his tenure at Entrepreneur First, where he engaged in enlightening conversations with over 65 drone professionals, fostering a dedication to unlocking Beyond Visual Line of Sight (BVLOS) capabilities. 
Subsequently, Guy took on a dual role, serving as the Head of Autonomous Systems at IONA, a VC backed drone delivery startup in London, while also working as a drone consultant at Ajuno, a UK-based technology consultancy. 
Now, he is excited to bring his expertise and enthusiasm to the Wilddrone PhD program. Guy is committed to using his skills and experience to contribute to the development of BVLOS technology and make a meaningful impact on wildlife conservation through innovative drone applications.
Doctoral Project 8 - Real-time Census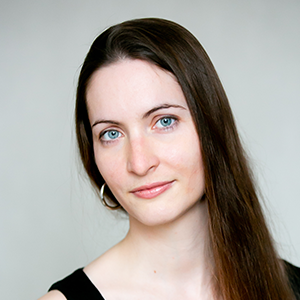 Camille Rondeau Saint-Jean, University of Southern Denmark (SDU)
Camille Rondeau Saint-Jean started her studies at the Conservatoire de Musique de Montréal. She later enrolled in the Conservatoire National Supérieur de Musique et de Danse de Paris, the École Normale Supérieure, and the Université Paris-Sorbonne (Paris IV), where she earned a master's degree in musicology.
However, this field of research did not satisfy her pressing drive to act towards the conservation of natural ecosystems and the well-being of wild populations, and in 2017 she decided to take a long-contemplated leap into ecology. In 2021, her undergraduate studies at Université de Sherbrooke culminated in a research project on Bighorn sheep population genetics. In 2023, she completed her master's degree at Université de Montréal, with a thesis on the potential of machine learning tools to study individuality and cultural phenomena in bird song. 
In addition to her regular activities as a bird ringer and field recordist, Camille has joined field expeditions to pursue research on blue whales in Mexico, and on Minke and humpback whales in Canada. She enjoys communicating her passion for nature and ecology through podcasts, blog posts, and engaging public talks. Outside of science, her many interests include harpsichord and piano music, 17th to 19th century science-fiction novels, long-distance running, and telemark skiing.
Doctoral Project 9 - Individual Characteristics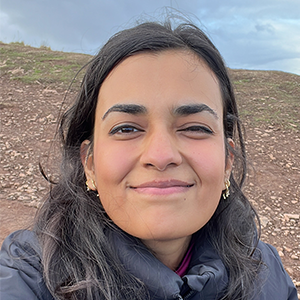 Vandita Shukla, FBK and University of Münster
Vandita Shukla has a background in computer science and mathematics and went on to specialize in Computer Vision and Imaging from UCL, London with interest in multi-sensory data and 3D reconstruction problems. She has worked with 3D reconstruction and photogrammetry in different areas – from objects of historical interest to humans. During her master's thesis she worked on feature extraction from historical unpreserved textiles belonging to The National Museum of Brazil to establish connections between their patterns/symbols and their origin. Vandita then went on to work as an engineer in the computer vision and computational photography team for a start-up which worked on human measurements for clothes and prosthetics that need high precision fitting. She has always wanted to converge her particular skillset with her persistent passion and love for wildlife conservation and that led her to WildDrone. Vandita hopes to work further in enabling better individual animal identification with all possible sensors through 3D reconstruction with her current project.
Doctoral Project 10 - Habitat Reconstruction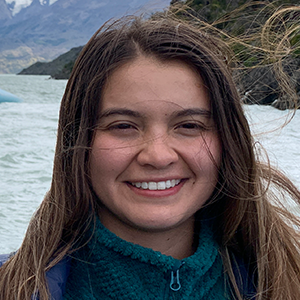 Constanza Andrea Molina Catricheo, University of Münster
Constanza Andrea Molina Catricheo is a highly motivated and accomplished researcher with a strong background in Engineering Sciences and Mathematics. She embarked on her academic journey at the Pontifical Catholic University of Chile, where she earned a professional degree in Mathematical and Industrial Engineering with a Major in Operations Research and a Minor in Mathematical Engineering.
Constanza possesses a profound interest in interdisciplinary subjects, particularly in applying AI and mathematics to address ecological and environmental issues. Her Master's research involved the development of a groundbreaking methodology called "Physics-informed neural network" at the same university, alongside a research internship at INRIA (National Institute for Research in Digital Science and Technology) in France.
During her PhD, Constanza will focus on the 3D reconstruction of organic structures within animal habitats, aiming to enhance environmental reconstruction accuracy. Her research aligns with a strong passion for developing innovative solutions to combat the challenges for species conservation and their habitats.
Doctoral Project 11 - Interactive Census Monitoring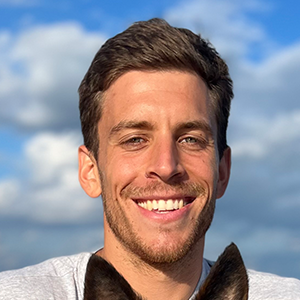 Giacomo May, Ecole Polytechnique Fédérale de Lausanne (EPFL)
Giacomo Mays academic background is very interdisciplinary: After obtaining a Bachelor's degree in Biology from the University of Bonn, he completed a second Bachelor's in Philosophy (major) and Computer Science (minor) at Munich's Ludwig-Maximilians University. Having developed an interest in programming, he then decided to pursue a Master´s in Computer Science, which he also did in Munich.
Throughout his studies, and motivated by a deep passion for our natural environment and its non-human inhabitants, Giacomo focused on the application of these different disciplines to conservation biology.
He is particularly interested in developing cutting-edge technological solutions to fight the ongoing loss of biodiversity and thus contributing to overcome one of the most pressing threats to the Earth´s ecosystems.
In his PhD, he aims at developing computer vision models that can be deployed to perform automated, drone-based censuses of animal populations. By drastically accelerating data-collection and -processing, these tools are expected to greatly facilitate conservation efforts.
Doctoral Project 12 - Adaptive Tracking
Nguyen Ngoc Dat has obtained the master degree in Artificial Intelligence and Robotics at Sapienza University of Roma in Italy. His thesis develops computer vision software that works on Tiago robot platform for real time detecting and counting grape brunch. Dat achieved the national Olympic price in IT when he was undergraduate student at Ha Noi University of Science and Technology in Viet Nam
His research focuses on AI on Edge/Cloud and optimization of AI application life cycle based on MLOps. Generally, he is an AI researcher with deep, various experience in deep learning, reinforcement learning, and metric learning.
Currently, he has a specific interest in real time computer vision, tracking, distributed system and navigation for unmanned aerial vehicles (drones). These technologies help him to study adaptive tracking for detection and identification, which will be applied to protect human-wildlife, monitor wildlife populations. He desires to develop comprehensive solution from edge layer (robots) to cloud layer for wildlife conservation revolution.
Doctoral Project 13 - Parasitic Drones
Kilian Meier is, at heart, an engineer. This is why he completed a Bachelor's degree in Microengineering and a Master's degree in Robotics at the École Polytechnique Fédérale de Lausanne (Switzerland). Kilian is also an adventurous spirit and during his various journeys, he fell in love with remote and isolated places. This led him to collaborate with the Norwegian University of Science and Technology and the University Centre in Svalbard during his Master's thesis. This collaboration resulted in a UAV-based wind estimation method, which can easily be deployed in remote locations.
Kilian is convinced that engineers can provide great tools to help assess and mitigate human impact on the environment and in particular on wildlife. Especially, if such tools are developed with an application-oriented mindset and in collaboration with end-users. 
(Visited 457 times, 2 visits today)